Dental Tourism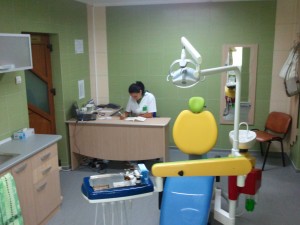 Dental Tourism
Dental tourism (also called dental vacations) is a subset of the sector known as medical tourism. It involves individuals seeking dental care outside of their local healthcare systems and may be accompanied by a vacation. Dental tourism is growing worldwide: As the world becomes ever more interdependent and competitive, technique, material, and technological advances spread rapidly, enabling providers in "developing countries" to provide dental care at significant cost savings when compared with their peers in the developed world.
We at the Bujor de Munte hotel decided to team up with a local dentist to offer you these exact services.
With a wide variety of services, the Szabo Ferdinand dentistry is the right place to get a new smile.
The dentistry is modern and up to date with the latest technologies and uses the latest materials and techniques at the fraction of the cost in Western Europe.
So how does it work ?
1. You as a client, need to send us a scan of your teeth and the requested services.
2. Our dentist, Dr. Ferdinand will analyze the scan and your requests and revert back with a schedule and full pricing for the services.
3. Based on Dr.Ferdinand's work plan, we will tailor the vacation for you and offer a list of places to see and things to do ( including meals and transportation ) .
4. Once you agree on the pricing for the dental services, sight seeing ( see examples here: https://bujordemunte.ro/en/attractions/  )  and accommodations, we send you a contract.
5. A 30% down payment ( of the total amount ) is required to reserve your place. The rest will be paid at the hotel.
Click below to download an excel price list of the dental services :